From November to February, large numbers of starlings come to Brighton from as far away as Scandinavia and congregate at dawn & dusk around Brighton's piers, making a fantastic wildlife spectacle.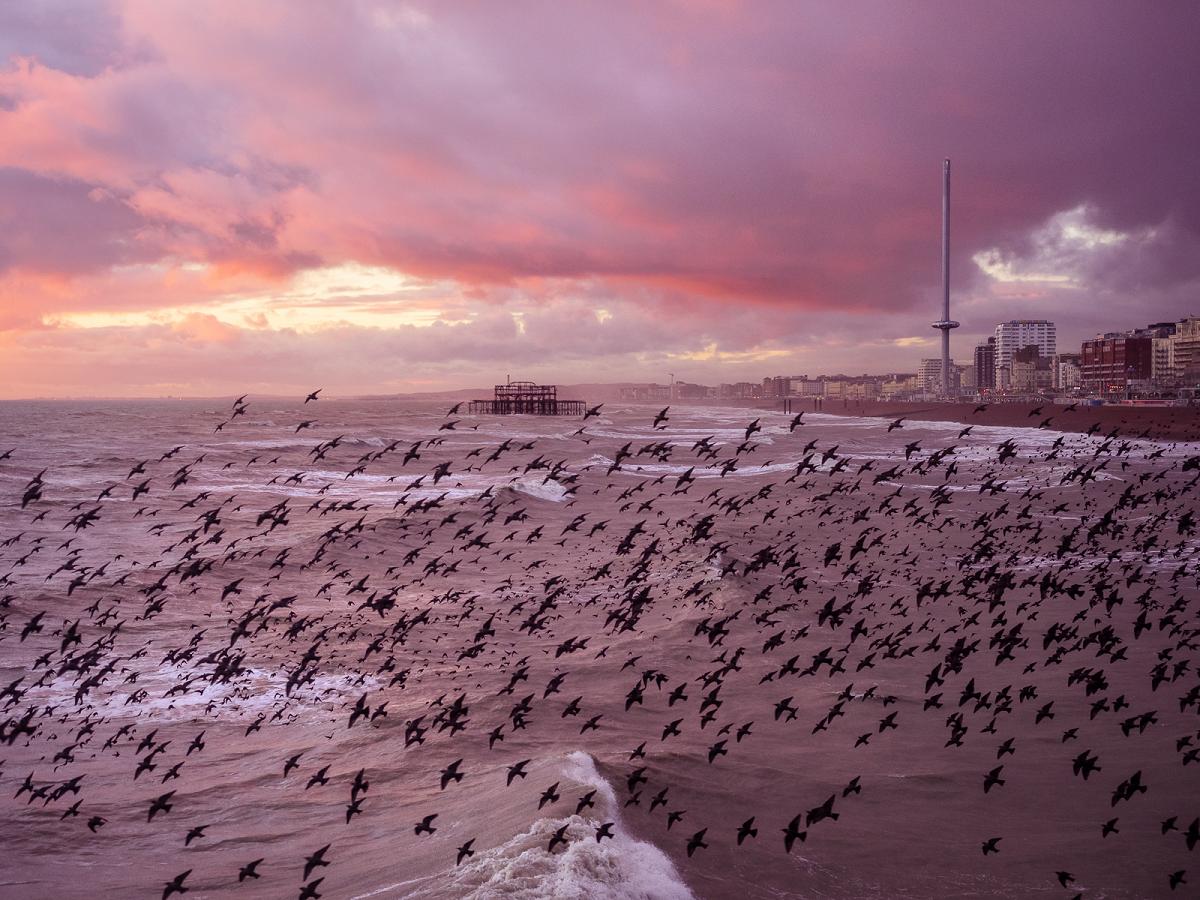 What are starlings?
Starlings are black, medium-sized, songbirds which are very social and like to fly in murmurations (flocks of birds),  in a swirling and mesmerising cloud-like formation - an aerial ballet. How they fly without crashing into each other is through something called Phase Transition. The movement of one starling influences seven starlings around it, which for each in turn influences another seven and so on,  giving this wave of motion that you see in the murmuration. 
One possible reason why they like to fly in such large groups, is to put off predators, which are deterred by the size of the murmurations.
The number of starlings  have decreased by up to 60% in the UK and this is believed to be due to a shortage of nesting sites & food, as a result of modern agriculture practices  and urban development.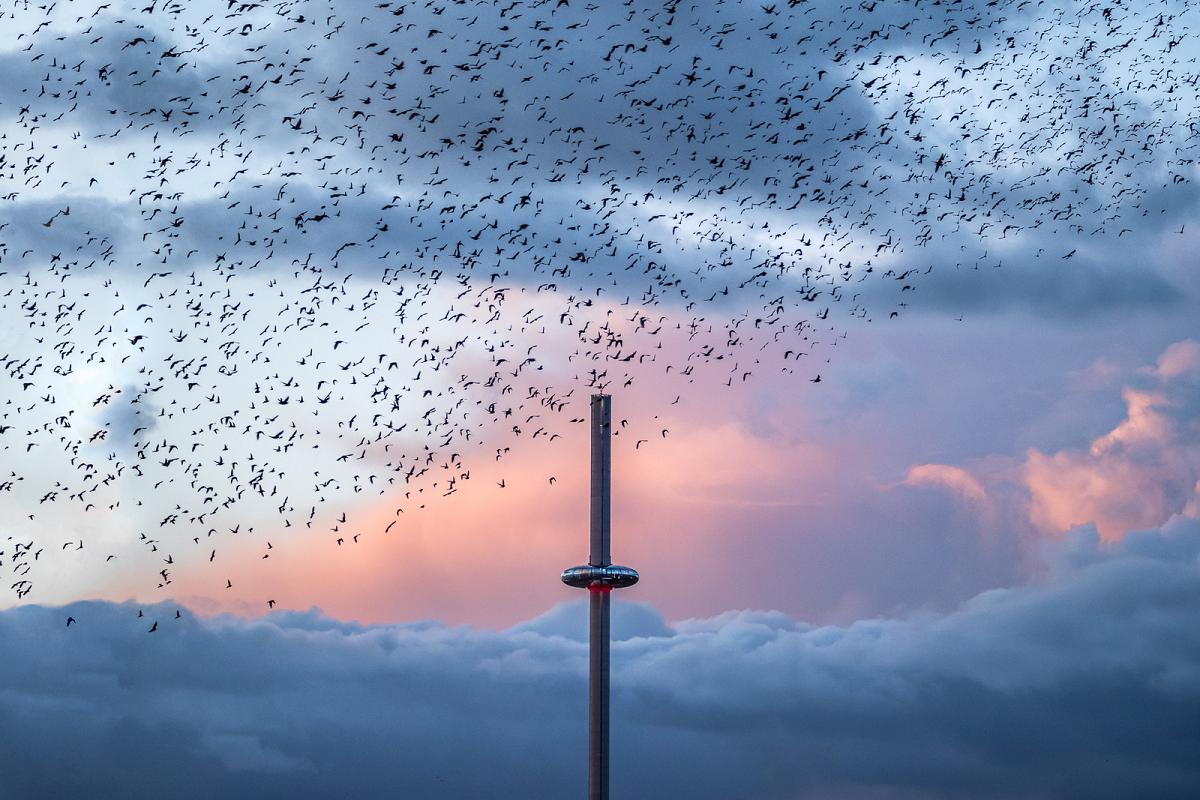 Why photograph starlings? 
This is a wildlife spectacle quite like no other. Every time I go to watch the starlings in Brighton, obviously the weather conditions do vary, but so do the starlings' behaviour, in where they fly, the size and shapes of the murmurations  and the hypnotic dance that the murmurations make. From a photography point of view, there's so much to experiment with, such as photographing them up close - mid-murmuration if you have a telephoto lens, capturing their interesting murmuration patterns, slow shutter speeds to convey movement, all with a background of the dramatic weather that Brighton can serve up - from vivid sunsets to stormy conditions.
Brighton Locations
You can watch them either from opposite Brighton's West Pier & the i360 or from the Palace Pier. A good time to arrive is 30 minutes before sunset (if the sun sets early as in disappears behind a cloud on the horizon, then the starlings tend to finish early too. Be warned that when it's windy, it can get quite cold if you stand in one place,  so bring gloves/hat and a duvet like coat.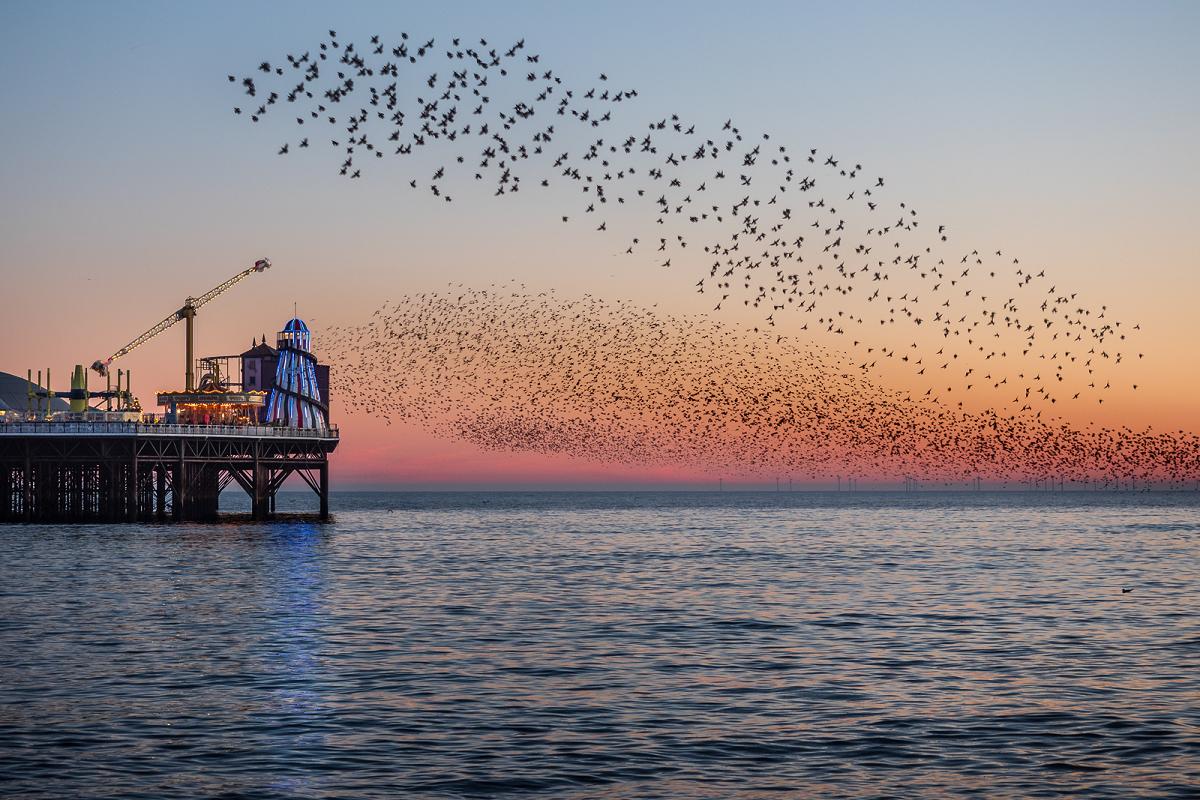 Photographing starlings from the Palace Pier can get you up and close with the murmurations.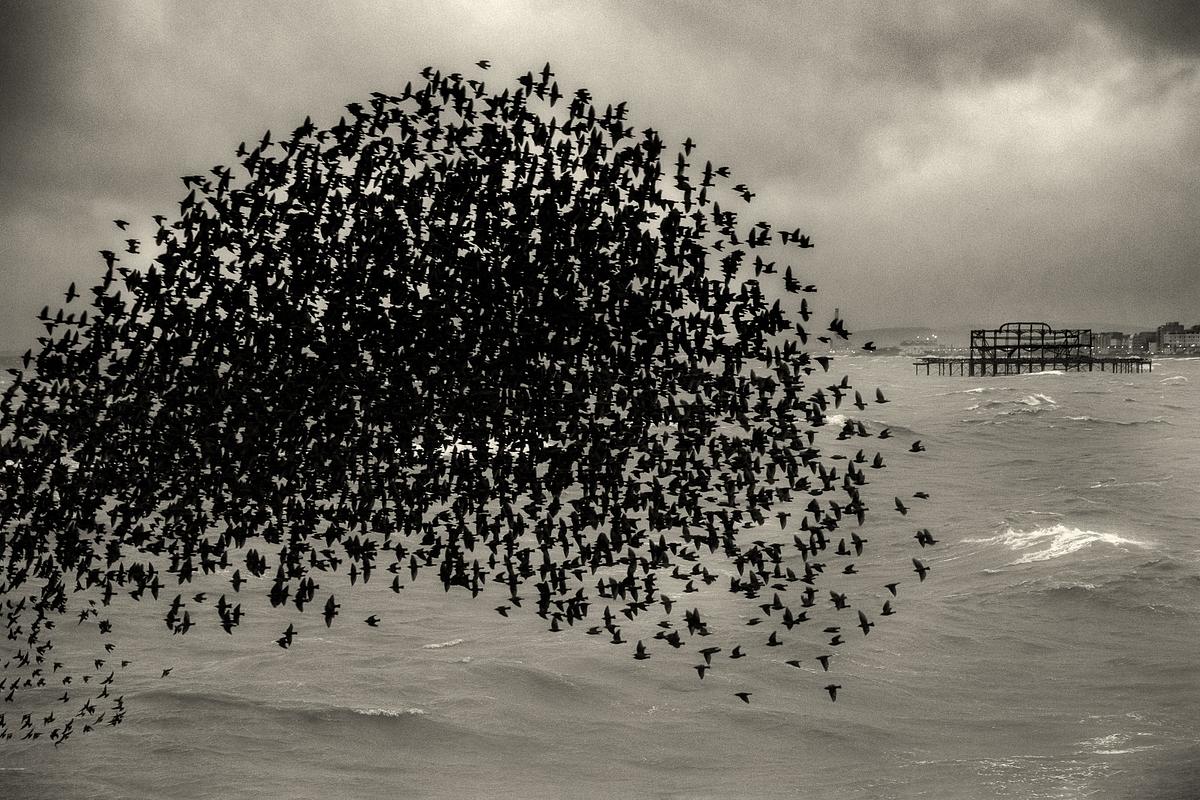 More images of the starling murmurations can be viewed in the Brighton Starlings Collection.
Update 30/01/2020: This image of the starlings on the turn, in front of the Helter Skelter on Brighton's Palace Pier, was featured on BBC Winterwatch on the 30/01/2020: